Looking for some family friendly fun near by?
Check out the following stories in our universe!
The Allentown Band plays many wonderful themed concerts throughout the year with various other groups and guest artists in locations throughout the Lehigh Valley. Many of these concerts are free or very inexpensive!
The Crayola Experience in Easton is open every day from 10:00 AM to 6:00 PM. This original facility is loaded with 65,000 square feet of colorful family fun. Choose from activities such as the Adventure Lab, Silly Selfies, Color Magic, Cool Moves, and Rainbow Rain, or take the day and do them all! Online tickets are $18.99, regularly priced at $21.99. Save $3 and skip the line!
Crystal Cave, located just outside of Kutztown, is an underground adventure in itself! Take a tour, play mini golf,grab an ice cream cone, and pan for gemstones and fossils! All activities are reasonably priced.
The Da Vinci Science Center has activities for the whole family including: Senior Science Mondays, Scout Programs, Little Learner Activities, Camps, Career Exploration Days, and the Inventors Lab Program. Hands on exhibits allow you to experience and explore the science behind a variety of concepts. Make sure to check out "Be the Astronaut." Become an astronaut in training and use 3D flight simulators to explore Earth's atmosphere and travel to the Moon, Mars, and Jupiter! Just $14.95 per person.
Spend the day at Echo Dell and Indian Echo Caverns in Hummlestown. Tour the caverns, have a picnic, pet some goats at the petting zoo, and try your hand at Gem Mill Junction! All activities are free or reasonably priced.​
Visit Knoebels in Elysburg, America's largest free-admission amusement park! Take a tour of the park's and local mines' histories, ride the Black Diamond, eat some delicious theme park foods, and even camp for the weekend! Park wristbands and ride tickets are available, and all wristband and ride prices are posted on their site along with camping fees, etc.
The Lehigh Valley Amateur Astronomical Society has a home on South Mountain where they hold planetarium shows and star parties for the public! You can even take a planet walk to feel just how far other astronomical bodies are from the earth. They also rent out telescopes and other star gazing equipment at very reasonable prices. If you're interested in learning how to use their professional telescopes, attending lectures, and helping out, membership dues are really reasonable. Check out one of their free events before deciding; their star parties are amazing!
Home of the Allentown Symphony Orchestra, Miller Symphony Hall in Allentown is an excellent destination for musical and theatrical entertainment of all varieties including classical, popular, and jazz music as well as comedy. They host an arts camp for kids, have youth concerts, and have a "meet the artist" series for adults. In addition, they offer live screen presentations of operas in cooperation with the Metropolitan Opera in New York City. Ticket prices for events are comparable to those across the Lehigh Valley.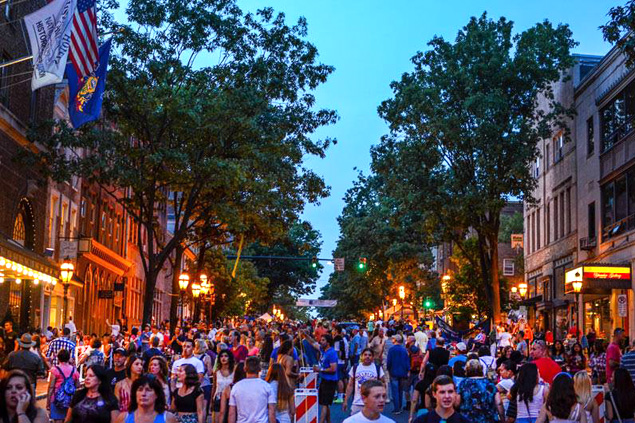 ​Musikfest is ten whole days in August full of free concerts, carnival food, and family friendly performances! Spread across Bethlehem, park for free at the Martin Tower lot on 8th Avenue and take the inexpensive shuttle to any site you want to visit. Festival maps, daily schedules, and tickets to big name artists are all avail able on their website.
The National Canal Museum, part of the Delaware and Lehigh National Heritage Corridor, opens once more in June! Located in Easton's Hugh Moore Park, you can ride the canal boat, meet the mules, check out the locktender's house, stroll on the D&L trail, and explore the exhibits at the Emrick Technology Center. $12 for adults and $9 for children includes a canal boat tour and access to the museum! If you're looking for a more intimate and one-of-a-kind experience, make it a date night and take a dinner cruise! $55 per person with the exception of the Whiskey Cruise, which is $75 per person.
The Nurture Nature Center in Easton has a little something for everyone. Dedicated to engaging the public in learning about environmental risks, NNC offers a variety of programs in both science and art. They even have an urban garden! Not to be missed: Science on a Sphere, a room-sized animated globe that provides exciting illustrations of planetary and earth sciences to all ages!
The Pennsylvania Shakespeare Festival brings New York quality theater to the Lehigh Valley. Located at DeSales University in Center Valley, PSF performs one musical every season, and the 2019 season musical is Crazy for You! The acting interns of PSF also perform a children's show all summer, which can be caught most mornings. This year is no exception, and the young actors and actresses will be offering The Adventures of Robin Hood and Maid Marian from May 31st through August 3rd. Also for preschoolers and elementary students is the interactive Shakespeare for Kids from July 24th through August 3rd. Ticket prices are comparable to those across the Lehigh Valley, and this year they're offering a family fun pass for both children's shows!